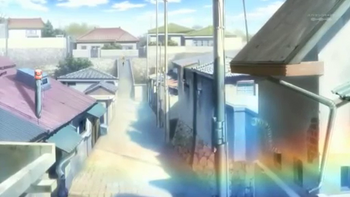 Background
Edit
Chuncheon (Korean: 춘천) is the gang's(Yoojin,Oh Che-lin,Kim Sang-Hyeok,Joonsang,Jin Seok,Yong Guk) home town. All of them studied in Jeil High School there.
Location
Edit
Chuncheon is the capital of Gangwon Province, South Korea. The city lies in the northeast of the country, located in a basin formed by the Soyang River and Han River.
Chuncheon has cold winters and hot summers.The winter season is highlighted in this anime.
Places in Chuncheon
Edit
Jeil High schoolEdit
Chuncheon has a high school by the name of "Jeil High School". Its is also the place where the gang did their schooling.
Chuncheon has a railway station which links it to other major cities and also to the mountains where Oh Che-lin's family own a house.
There is a large park present in Chuncheon. This is where the couple have their first date. The park is a common hangout for the people of Chuncheon especially in winter when the ground is covered with fresh snow.Yoojin and Joonsang have their first kiss here.
The RiverEdit
The River is one of the most scenic sites in Chuncheon. It offers a lot of attractions such as boating. The couple goes out on a date over this river.
Ad blocker interference detected!
Wikia is a free-to-use site that makes money from advertising. We have a modified experience for viewers using ad blockers

Wikia is not accessible if you've made further modifications. Remove the custom ad blocker rule(s) and the page will load as expected.