Episode 6:
Edit
"The woman who can't forget her first love"
is the sixth episode in the Winter Sonata anime series which is an anime adaption of the Korean superhit drama Winter Sonata.
Short Summary
Edit
Min-Hyeong arrives at the unofficial engagement party and surprises the rest because of his similarity to Joon-Sang. He is shown as Che-Lin's boyfriend and also the new director. Yoo-jin does a presentation for Polaris. At the end of the episode she is seen going in the car with Min-Hyeong.
Winter Sonata: The woman can't forget her first love

Korean

겨울 연가 : 찻 사란을 잊지 못하는 여자

Japanese

冬のソナタ:初恋を忘れられない女

Romaji

Fuyu no Sonata : Hatsu koi o wasurerarenai onna

Episode

6

Status

Finished airing

Genres

Drama, Romance

Producers

G&G Entertaiment, JM Animation

Direction

Seokho Yoon

Duration

25 minutes

Rating

PG 13 and above
Episode in detail
Edit
The episode starts of with the arrival of Min-Hyeong, the boyfriend of Oh Che-Lin at the party which startles the rest because of his uncanny resemblance to Kang Joon-Sang who is believed to be dead by the rest. Che-Lin introduces him saying that she met him in France. Kim Sang-Hyeok is particularly disturbed by his arrival because of his old rivalry with Joon-Sang and is seen drinking.
As Jeong Yoo-jin goes to deliver her presentation she is shocked to see that the new director is none other than Min-Hyeong and starts to cry. The deal is done by Yoo-jin's colleague instead of her.
Yoo-jin then goes to meet Che-Lin to find out more about Min-Hyeong. She finds out that he was born and brought up in the US and has never set foot in Korea before. Soon she begins to feel better.
Yoo-jin later delivers her presentation about her plan to which Min-Hyeong remarks that she spoke like a school girl who did an all-nighter practising the speech.
After this Min-Hyeong meets up with Che-Lin and tells that he likes the new lady at his office; he drops the topic as she shows no interest in the matter.Che-Lin then asks him why he wouldn't take a house and settle down to which he replies that he would settle down only in the house that he built for himself.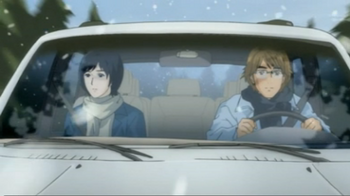 Later Yoo-jin receives a call from her colleague that she would need to go to site instead of her. When she reaches the office she is surprised to see that the Director has come to pick her up instead of the Deputy Director. As they are going in a car Min-Hyeong calls Yoo-jin in just the same way as Joon-Sang and the episode ends.