Kang Mee-hi


Vital statistics
Status
Supporting cast
Gender
Female
Age
50+ years
Occupation
Famous Pianist
Health
Active
Other Info
Cast in Drama
Song Ok Sook
Anime Vocal
So Hye Jyeon
Background
Edit
Kang Mee-hi is Joon-Sang's mother. She loves Hyunsoo and dated with him during high school days. After his marriage to Yoo-jin's mother Kim Yeonhee, she attempts suicide but is rescued by her friend Kim Jinwoo who also loves her. Joon-Sang is her and Kim Jinwoo 's son.
Appearance
Edit
She was stunningly beautiful in her youth. With the passing of years, she has kept her beauty intact as she has to appear in media and public for piano performances. She is almost always well-composed.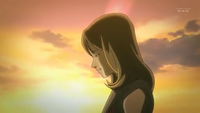 Personality
Edit
She loves Hyunsoo with all her heart and so lies to her own son about his father. This gives birth to all pains and sufferings of Joonsang. But she tries to get back her son at any cost as she loves him dearly. She never lets anyone know about her sorrows and maintains a stone face.
She is a famous pianist
Her famous piece is the "First Time" which is composed by Hyunsoo